Navigating the Beaufort Lowcountry
A myriad of communities are geographically dispersed throughout Beaufort and neighboring counties. The Broad River separates the Beaufort side from the Hilton Head-Bluffton side, geographically and philosophically. While nature, beauty, and history play an important role to both, The north side retains much of the genteel southern charm, while the south side has a resort atmosphere and bustling growth.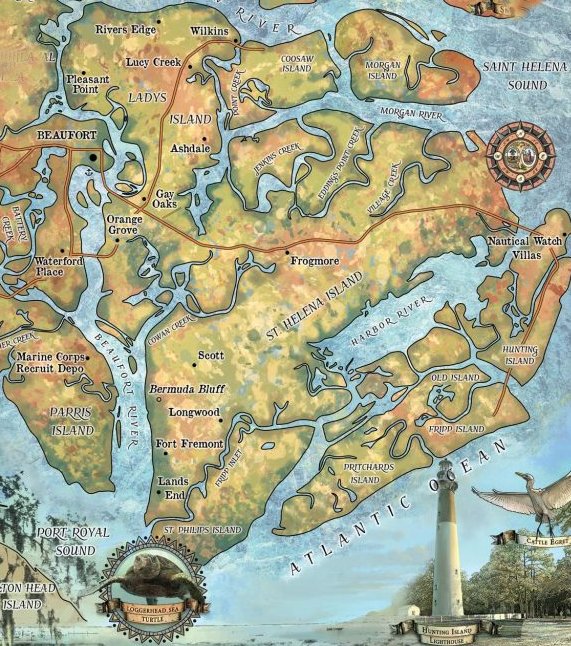 North of the Broad River
"Beaufort Communities"
Beaufort is a charming southern town, steeped in history, and continually rated one of the best places to retire in the country.
Leaving the town of Beaufort and heading southeast, cross the draw bridge onto Lady's Island, a major area of growth.
Leaving Lady's Island east, proceed to the Sea Islands: St Helena Island, Continue on to Hunting Island (a State Park with beaches and light house), Harbor Island and finally Fripp Island.
Leaving the west side of Beaufort heading south on Ribaut Road, will lead to the charming town of Port Royal, undergoing a major redevelopment of the Port. Port Royal connects to Ladys Island via the McTeer Bridge on the east. On the west, Savannah Highway, leads to the Parris Island Gateway, and SC-170, and the Broad River Bridge to points south.
Crossing the Rivers: Traversing the Broad River and Chechessee Creek Bridges provide expansive vistas of the rivers, savannas, and endless sky which embody the Lowcountry, along with an understanding of the importance of the tidal rivers to the vitality of it.
South of the Broad River "Bluffton Communities"
The major areas of growth are occurring in the towns between Beaufort and Hilton Head and to the west.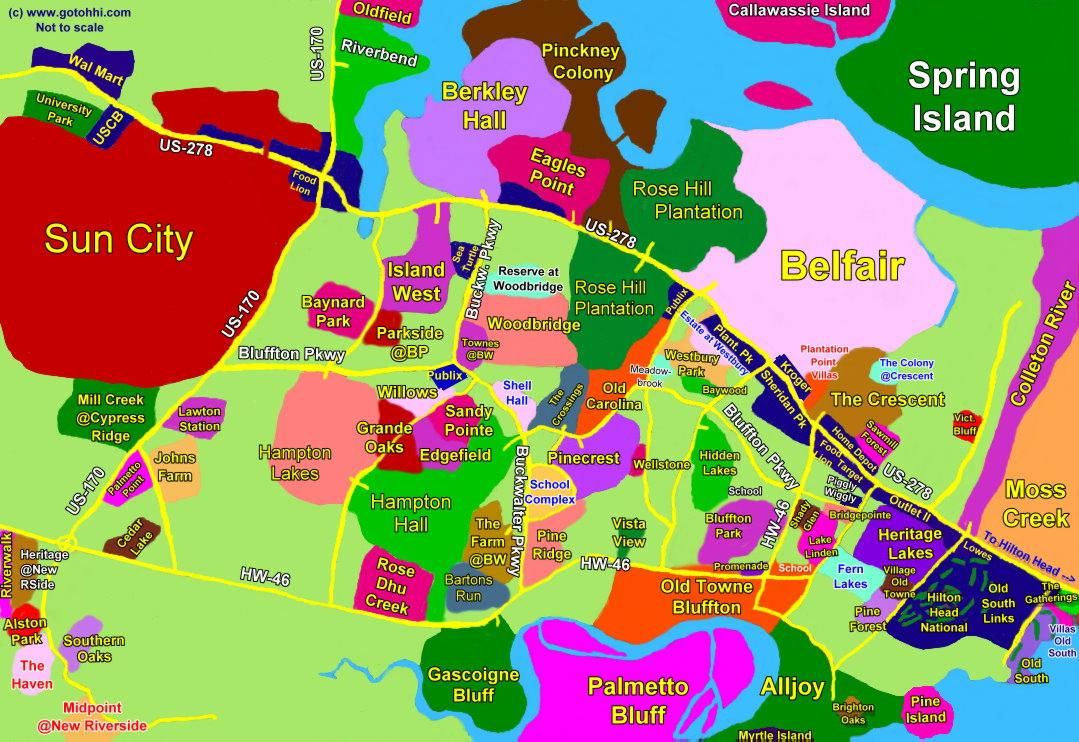 Okatie lies along SC-170 from the Broad River to US-278. Callawassie Island, Spring Island and Oldfield Plantation are along the way.
Bluffton lies to the east of SC-170 all the way to Hilton Head. The map shows the many Plantations, communities and neighborhoods offering something for everyone. US-278 (Fording Island Road) is along the north, SC-46 (May River Road) is to the South, and Bluffton Parkway meanders between the two, joining US-278 at the "flyover" leading to Hilton Head.
Hardeeville (Jasper County) lies to the west on US-278, and points south, west of SC-170. Many new developments attract many young families and retirees.
Hilton Head is an award winning destination resort, drawing millions of tourists who settle for the lifestyle, culture, and climate. This has resulted in a growth boom along US-278 the major route joining Hilton Head to I-95, and north and south on SC-170 the major route joining Beaufort and Savannah.